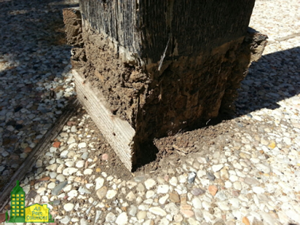 The first thing you need to know is that any Connecticut structure containing wood or cellulose material provides a natural food source for subterranean termites. Even structures that are mostly steel and concrete are vulnerable to termite attack. The list below is to provide some general conditions conducive to termite infestation that  may warrant an inspection:
Earth-wood contact
Firewood stacked against foundation
Wood debris in crawl space
Wood mulch (within 3 ft of foundation)
Faulty grade
Insufficient ventilation
Moisture
Scope of a Wood Destroying Insect Infestation Report in CT
A trained and qualified CT pest inspection professional will conduct a careful inspection to determine the presence or absence of visible evidence of infestation from wood destroying insects.  Those areas, which are readily accessible and where infestation was most likely to occur will be inspected. No inspection is made in areas, which require the breaking apart, or dismantling or removal of any objects.
The inspection covers the readily accessible areas of the property which permit entry. Special attention was given to those accessible areas, which are known to be particularly susceptible to attack by wood destroying insects in CT.  The inspection DOES NOT  include areas, which are obstructed or inaccessible at the time of inspection.
This is not a structural damage report. A pest inspector is not ordinarily a construction or building trade expert and, therefore is not expected to possess any special qualifications, which enable him to detect the extent of structural damage if damage or other evidence of wood destroying insects is noted in this report.