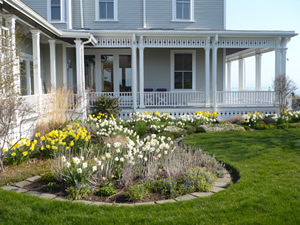 Spring in Connecticut is a reminder of the power of nature to regenerate itself. Wherever you live in CT, the trees burst into bloom.  After the cold and icy grip of winter, spring is full of the promise of warmer days to come.
Spring in CT also signals the emergence of insect and pests which is why it is the perfect time of year to order a pest inspection for your home or property.  It seems these days everyone is referring to pest management.  Even the with insect and pests is to kill them dead as fast as possible.  So, yes, when spring arrives, CT pest control professionals are gearing up to battle with termites, carpenter ants, carpenter bees and other pests.
For homeowners throughout CT, spring signals the presence of termites when their winged termite swarmers show up on window panes, attracted by the sunlight. What most do not know is that their home has likely been infested with termites for several years until the colony reaches a point of sending the swarmers out to establish new colonies.
Annually termites do more damage to homes throughout the CT than the combined effects of storms, fires, and earthquakes. Termite damage is frequently not covered by homeowner's insurance. It is estimated they cause $5 billion in damage every year.
Termites aren't the only insect that can inflict property damage, a colony of Carpenter ants, often several thousands in numbers, can enter a home overnight and begin to burrow into its wood.
Pest management professionals in CT always urge consumers to have their homes and workplaces regularly inspected for signs of insect or pests. The tendency, however, is to wait until there are signs of an infestation before people call for help.
If you are concerned about pest destroying the structure of your home, give us a call today!  888-558-1574.